Nurse Directed Care
Professional Caregivers You Can Rely On
When your loved one needs home care, you want to find the right fit for your family's needs. Nurse directed care is home care that is performed or led by nurses. Using Boom Health, you can book care from vetted and qualified registered nurses (RNs) and registered practical nurses (RPNs) who you can trust to offer the best care for your elderly loved one.
From short-term support while your loved one recovers from a hospital visit to longer-term solutions, RNs and RPNs provide a helping pair of hands, expert knowledge, and peace of mind
RNs and RPNs are trained to assist in almost all caregiving and home care circumstances your loved one is facing. Since seniors are vulnerable to a wider variety of health problems, infections, and other complications, our professionals are trained to address these issues, ensuring the highest level of medical support and attentiveness.
They can assist with medication management and administration. This may include tasks such as crushing or splitting medication if needed, drawing dosage for liquid medication, and administering the medication by placing it in your loved one's mouth if required. Other services provided by RNs and RPNs include bedside care, catheter care, Alzheimer's and Dementia care, post-surgical care, wound care, and palliative care.
If your loved one requires palliative care, RNs and RPNs can help alleviate stress and symptoms of illness that are unable to be cured, provide constant monitoring of symptoms, work to address stress triggers, and use interventions to reduce the effects of the illness' symptoms.
Boom Health offers this service in the comfort of your home.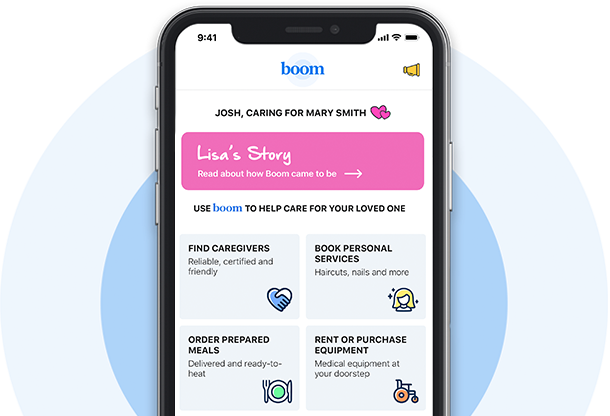 Manage your loved ones care from your mobile device