Fresh and healthy meals are an important part of a balanced life. It is often difficult to find time to cook fresh meals made from quality ingredients for you or your loved ones. When home-cooked meals are not an option, there are a number of ways to ensure that seniors are enjoying healthy, flavourful meals.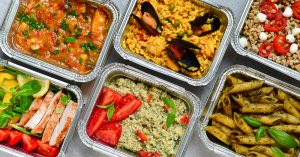 One option is hiring a Personal Support Worker (PSW) to help prepare meals. PSWs can also assist with dressing, feeding, washing, and toileting, as well as provide advice, encouragement, and emotional and psychological support. PSWs can even assist with grocery shopping. The Boom Health platform has PSWs readily available for booking.
Another option is ordering takeout. There are both pros and cons to this option. The most popular reason that seniors order takeout is to save time from cooking and cleaning. However, consistently ordering takeout is expensive and may be unhealthy.
A third option is ordering a meal plan. Meal plans come in a variety of forms. Some provide the ingredients and you are required to prepare the meals and others come ready-made.
There are several types of meal plans, 2 of which are fitness-focused and senior-focused.
Fitness-focused meal plans are generally followed to maintain and build muscle. These types of meal plans involve consuming 30% of calories from protein, 55% of calories from carbohydrates, and 15% of calories from fat. Foods to focus on include meats, poultry, fish, dairy, grains, fruits, vegetables, nuts, and legumes. Alcohol, foods with added sugars, deep-fried foods, and carbonated beverages should be limited.
Senior-focused meal plans involve consuming a variety of foods from each food group. This will help reduce the risk of developing diseases such as diabetes, heart disease, and hypertension. Seniors should aim to consume 10-35% of calories from protein or dairy products, 45-65% of calories from carbohydrates, and 20-35% of calories from fat. Foods to focus on include fish, leafy greens, berries, fermented dairy, cruciferous vegetables, citrus fruits, and seeds. Foods to limit include high-sodium foods, sugary drinks, alcohol, and grapefruit.
Boom Health offers meals that arrive at your door freshly prepared that require only reheating. Orders can range from a minimum of 6 meals to a weekly subscription of tasty meals prepared with love, full of fresh wholesome ingredients and lots of flavour! Find the app on the App Store or Google Play Store.